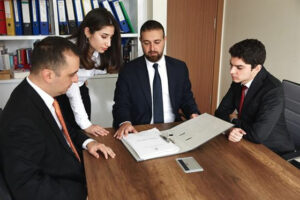 Many foreigners confronted with the situation of losing their rights on inheritance stemming from their relatives in Turkey. Turkish citizens abroad generally register their children to the Turkish demographic records. However, some of Turkish citizens refrain to inform Turkish consulate about their children and these children become invisible once succession issue arises. Inheritance can be only requested for people as a family member who are officially registered under Turkish demographic records. In case registration of children lacks, Turkish courts will not accept them as an inheritor, and it may cause irreversible damages for them. If a person who is registered to family tree in Turkey and over 18, he/she needs to file a case to fix demographic records. In this case, DNA test has a main role to establish the link between the family members. Court can obtain tissue samples for DNA tests and send it to forensic for examination in order to determine the family links based on applicants claim. To be registered to Turkish family records does not grant citizenship directly without application. Therefore, in case of court's acceptance of paternity case, the applicants claiming ancestral link will be registered to the foreigner family member records.
One of the most prominent case as a foreign element involved case in this field was Naim Suleymanoglu's case. In Hurriyet Daily News,
"Apaternity test of the late world record-holding Turkish national weightlifter Naim Süleymanoğlu has confirmed Japanese national Sekai Mori is the daughter of "Pocket Hercules." The remains of Süleymanoğlu, who died last November and was buried in Istanbul's Edirnekapı, were exhumed in July after a paternity lawsuit was filed by his alleged daughter Mori. A sample of the weightlifting legend's DNA indicated that Mori is Süleymanoğlu's daughter, with 99.9 percent certainty. The result of the forensic medicine test means that Mori will inherit a share of Süleymanoğlu's legacy. Mori alleges that Süleymanoğlu met with her mother Kyoko Mori, a Japanese journalist, at the 1988 Seoul Olympics. According to Mori, the couple got close and the rest is history. She requested a paternity test through her lawyer and Turkish officials decided to exhume the remains of Süleymanoğlu in order to obtain tissue samples for DNA tests. The weightlifting legend has two other daughters, Esin and Sezin Süleymanoğlu, who protested the decision to exhume the body. Süleymanoğlu never married. Süleymanoğlu died at age 50 in November 2017 after he was admitted to an Istanbul hospital due to liver failure caused by cirrhosis." (source : https://www.dailysabah.com/turkey/2018/08/08/paternity-test-confirms-naim-suleymanoglus-japanese-daughter)
             In that case, allegedly daughter Sekai Mori is found 99.9 percent certainty linked with deceased Olympic champion. Sekai Mori decide to come to the country in order to give dna samples Turkish court. However, in some cases coming to Turkey is not always possible due to many reasons like health problems, transportation and etc. In that case, it is possible to use judicial cooperation treaties concluded among the states. Turkish court can request to collect evidence with a rogatory letter from foreign court. Therefore, dna samples can be also request from other jurisdictions by the help of treaties envisaging collection of evidence.
Turkish Descents claiming Right of Succession
was last modified:
February 19th, 2021
by