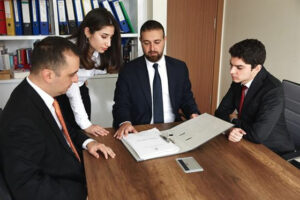 We are a dynamic, independent Turkish law office operating in Istanbul since 2004, providing the highest quality of legal service to all legal matters which element of foreignness involved since 2004. Our wide range of clients vary from individuals through to large multi-national businesses and even to states which are member of United Nations. We are specialists in Turkish litigation law and practice. We have expertise in Turkish criminal law and practice as well. Simply put, we are a full service law office.
Our law office is also well known by Turkish Public with media attention taking cases. In press section of our website you can see that our law office handled newspaper headline cases.International private law is an unique legal field for lawyers that they need to update themselves. In our law office, we consider the experience that we have in this field as a treasure.
Our expertise and experience is well known. We take a commercial approach in representing our client's interest. We take the time to properly understanding our client's ultimate goal. We focus on making a valuable contribution our client's business; and we provide excellent value for money. Our lawyers work across practices and jurisdictions; bringing together their collective specialties to provide the highest quality legal services to our clients.
In our law office, each individual client benefits from the experience and the knowledge of our whole team.
We are flexible. We adapt our services to the needs of our clients. Using our wide network of associated and affiliated companies and consultancies, we offer ongoing services to our clients. We take pride in every client's individual success.
As law office policy, before we undertake any work on a client's case, to provide you, our client, with a straightforward and honest way estimate of our legal fees; and thus make the our legal services much more client-friendly and predictable.
And, importantly, our law office provides its services in Turkish, English, Russian, French, Dutch, and Arabic.
We have currently Russian Law consular in our legal team and we are familiar to Russian law. Our coordination with Turkmenistan based law office Altyn Kanun provides consultancy services regarding Turkmenistan Law. In addition, In Greece, currently we are in coordination with Mrs Duygu Erkek for legal solutions particularly in investment law.
About Our Law Office​
was last modified:
February 4th, 2020
by